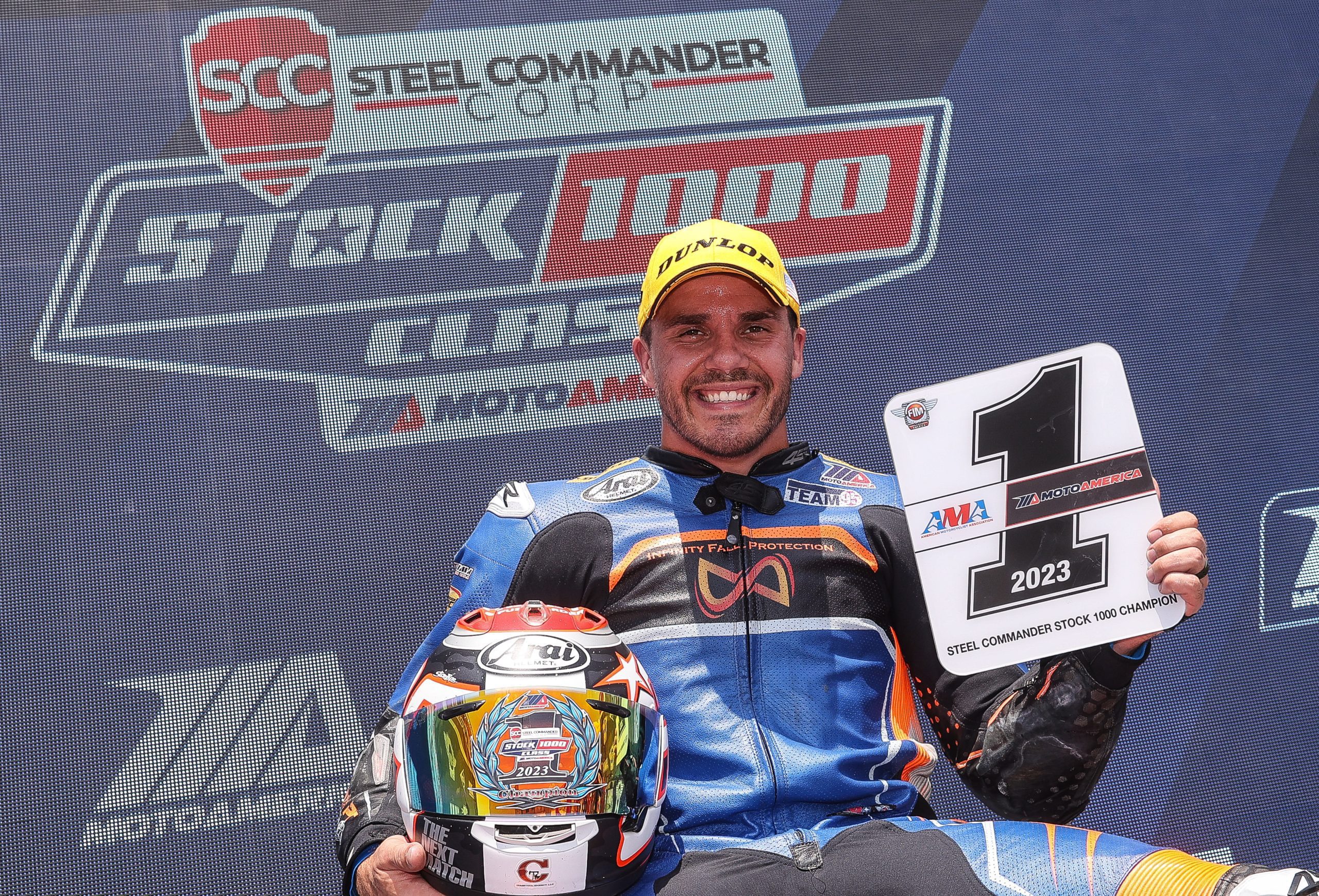 The 2023 Steel Commander Stock 1000 Championship was decided on the final day of the class's season, and even though Disrupt Racing Suzuki rider Hayden Gillim didn't need to win the race to the win the title, the Kentuckian got the victory anyway, which was his sixth race win of the year.

Gillim started from the pole, but he had to withstand an early challenge from Travis Wyman Racing BMW's Travis Wyman. At about the halfway point of the race, Gillim overtook Wyman for the lead, and he kept it all the way to the checkered flag. Meanwhile, Wyman crossed the finish line in second.
Third place went to PDR Motorsports Kawasaki rider Diego Perez, who was competing in his first Steel Commander Stock 1000 race weekend of the year.

"Everybody before the race was telling me where I needed to be and everything," Gillim said. "Like I said yesterday, I'm not good at math, so I wanted to win the last one. I didn't want to sit there. I knew Travis (Wyman) from the first couple of laps was going to be hard to pass. It took me a while. The first pass I made on him, immediately he came back by. So, the second pass, I made sure to kind of block a little bit going into that next-to-last corner. Knew I had a little bit on the brakes going up into one, just from the first time he came back by me. But it was good. It was so much fun to race with him. We've raced so hard over the years. For us to be dicing it out the last race of the year is a lot of fun. He definitely made me work for it today, though. But the whole team, Disrupt Racing 4SR team, has been working their butts off this year. We had a really bad start to the season and to be able to finish it off with the couple wins we did here is pretty special, and to have the whole Nickell family here running 4SR in the U.S. is amazing. They're like family to me. Having them here with us is really awesome. To be able to bring it home for Jesse and Dani Hwilka this year is really special. They've been wanting it really bad. I got their first win for them and the first podium. And now, the first championship. So, it's really special. It's a bummer because my wife isn't here and my son isn't here, but they're at home watching. She made me tear up a little bit on the podium because she was crying on the phone. So, I wasn't able to get out some of the stuff I wanted to say on the podium. This is really awesome."
Mission King Of The Baggers – Rispoli Wins A Weird One
The city of Austin goes by the credo of "Keep Austin Weird." Well, Sunday's Mission King Of The Baggers race two definitely filled the bill.
The race was ultimately won by Vance & Hines/Mission/Harley-Davidson's James Rispoli. It was Rispoli's second victory of the season and his first since the very first race of the year back in March at Daytona International Speedway.
Weird? Well here goes: Tyler O'Hara led the first lap before his Indian Motorcycle/Progressive/Mission Foods Challenger expired. By this point, championship points leader Kyle Wyman had crashed, but would remount and ultimately finish ninth. Then Bobby Fong led for a lap before his Sac Mile/SDI Racing/Roland Sands/Indian blew up. Rispoli was then back in front, a spot he held on to until the finish of the six-lap race. Behind him, however, things still changed with H-D Screamin' Eagle's Travis Wyman crashing out of second place on the last lap, which handed the spot to Rispoli's teammate Hayden Gillim. Wyman's crash also elevated Roland Sands Design/Indian Motorcycle's Kyle Ohnsorg to his first career podium.
Phew.
Fourth place went to Indian Motorcycle/Progressive/Mission Foods' Jeremy McWilliams, despite a five-second penalty for jumping the start, with Team Saddlemen's Jake Lewis rounding out the top five.
The bottom line: With two races left to run in the season finale at New Jersey Motorsports Park, Gillim leads the title chase by just two points over Rispoli with Wyman third, 11 points behind Gillim and nine adrift of Rispoli.
"It was mental," Rispoli said. "Did Jeremy (McWilliams) jump the start? That's the best start I've ever seen in my entire life. I got to be honest. Did Tyler (O'Hara) or did he just go? McWilliams has got that guy's back. He had five seconds on the first lap. Me and Hayden (Gillim), I'm shaking my head like, 'We're going to get smoked because we can't pass McWilliams right now.' Not saying he's not fast, he was just rolling everywhere. You could just see it. Just using that engine horsepower. But it's carnage. I don't know what happened. I thought everybody was stacked up behind me. When Bob (Fong) came through, he had some stuff kind of coming out. I got a little nervous because I had some stuff on my shield and I kind of let him go. I saw him looking back. Then he started cutting the chicane and I was like, 'Man, if I was a betting man, he's probably not going to get away with that twice.' Then I kind of put my head down and I saw on the tower number 10. I was like, Travis (Wyman) is in second. Then I saw Hayden there. I just took a peek back and I saw I had some daylight. I was like, 'dude, we're just riding slow.' I was doing 18s. I did a 17.9 when I kind of felt comfortable, when Bob was far enough away. Then I looked on the last lap. I looked back and there was no one there. Super thankful. Sometimes you don't race against the fastest guys at the time of the race. To win like this probably has an asterisk, but we finished and we got points back and we got a win. I'm stoked. I'm really just pumped for the whole team. We struggled this weekend and it just goes to show you that as a team we can still persevere, we can still put things one and two and be on the box. Single digits going into the last round. Anything can happen. That's what we want for the sport."
Supersport – Scott In A Thriller
Old age and treachery was defeated by youth and enthusiasm in Sunday's Supersport race with Vision Wheel M4 ECSTAR Suzuki's Tyler Scott besting Warhorse HSBK Racing Ducati NYC's Xavi Fores in a race that featured a thrilling last lap.
After a heated last lap that saw both riders on COTA's expansive run-off areas at certain times, Scott withstood the constant pressure of Forés with the cool head of a rider well beyond what you'd expect of a 17-year-old.
The win was Scott's third of the year and what he called the best of his young career. For Fores, it was his 11th podium of his championship-winning year.
Scott's new Vision Wheel M4 ECSTAR Suzuki teammate Torin Collins finished third in just his second ride ever on a Supersport bike – a day after he finished fourth in what was his debut with the team and in MotoAmerica.
"This morning we made a few changes from yesterday," Scott said. "They were all very minor, one or two very minor changes. But the big question was we were running out of gearing on the back straightaway. So, we were hitting the limiter. Before the restart, I tried to draft him and then see if I could pass in the braking zone. But the gearing, I started hitting the limiter at the first braking marker and was actually losing ground. So, I knew for the rest of the race and what eventually would become the restart that I would have to be really aggressive, really deep into the brakes, or lead down the big straightaway and hopefully he gets beside me. I had the confidence in the front end to be able to out-brake Xavi (Forés) for one of the first times this season. I was able to match him in the braking zones and came out on top in those battles. I can't give enough thanks to the whole Vision Wheel M4 ECSTAR Suzuki team for preparing a beautiful bike this weekend, dialing in the electronics, Barry from Öhlins dialing in the suspension. It couldn't be more perfect. The one thing also, I went with the zero front tire which was super soft. About halfway, I started tucking the front a little bit and I just had to be careful in the closing laps not to put a lot of bar input at the apex."
Mission Super Hooligan National Championship – O'Hara Again
Indian Motorcycle/Progressive/Mission Foods' Tyler O'Hara wrapped up the 2023 Mission Super Hooligan National Championship on Saturday and continued his party with a second victory on Sunday at COTA. The win was O'Hara's fifth of the season and it came after a rough and tumble win on Saturday that saw his teammate Jeremy McWilliams crash out on the final lap in the last corner with the two basically locked in combat.
A banged up and bruised McWilliams finished second for his sixth podium finish of the season and it earned him second in the championship point standings.
DiBrino Racing KTM's Andy DiBrino earned his sixth podium of the season and that placed him third in the final championship standings. DiBrino and McWilliams went into Sunday's series finale tied in points with Ulsterman McWilliams coming away with the runner-up spot in both the race and the title chase. "Today definitely wasn't as hot, which was nice," O'Hara said "A little cooler today. Yesterday was just an all-out, epic, one of those days like fighting with your brother in the backyard or something with the gloves off. It was epic. It was just clean all year. He didn't hit me. He didn't bump me. He rubbed me, and rubbing's racing, and I'm okay with that. We push each other, and he's great at putting in fast laps when he needs to. I've worked a lot on that this year and really had to dig deep to bring my level up and my speed. A lot of speed work in the training. He brings a lot to the development of this team. He brings a world championship level of preparation to our whole program. He makes everybody on our team better. He's a warrior. We were both at the medical center this morning. We both had pretty good ones this morning. Hats off to them. S&S Cycles. They've been working so hard all year. Today we had a great first start. I could hear him. I was like, okay. I had a little battle with (Stefano) Mesa there. Then we got the red flag and just tried to kind of go around the first lap, keep my bike cool and kind of get some heat in the tires the last couple corners so I don't have to sit there with my clutch. Got not the best jump. Jeremy (McWilliams) got a better jump and he stayed inside. I think that kind of pinched off a couple of the other guys. I kind of swung wide in, too. Three lap dash, it's like the dash for cash. You've just got to go for it and bite your lip and get a little western. It was really fun. To cap it off with a win feels really good. Again, this one is for the team, everyone that works so hard. It feels really good. Andy (DiBrino) rode awesome all year. Looking forward to Daytona in March."